Gulab Ramchandani 50 years of service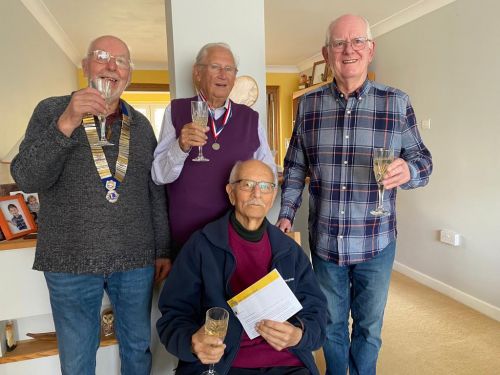 Gulab Ramchandani was presented with a Chevron by Maidstone Lion President Derek Ransley marking his 50 years of service to Lions International. Gulab (pictured seated) first joined Maidstone Lions in 1973, his career then took him to Bristol where he joined Bristol Lions serving two terms as President 1977/78 and 1983/4 before returning to Maidstone.
"50 years service to Lions is a wonderful achievement, Gulab has been a very active member ever present whether it be a Meeting, Social event or fund-raising activity" - Derek Ransley, Club President

Pictured - Derek Ransley, Retired Lions Bryan McCarthy and Geoff Moon and Gulab Ramchandani seated.
63rd Charter - Cornwallis Suite 25 February 2023
Lion President Derek Ransley, Anne Ransley with Joanne and Craig from Leading Lights
Maidstone Lions celebrated their 63rd Charter at the Cornwallis Suite in Tovil on Sunday 25th February. 89 guests attended, with the Mayor and Mayoress of Maidstone attending as guests of honour.
After enjoying a delicious three course Carvery lunch, they were entertained by two wonderful singers from Leading Lights productions who misled guests into thinking that they were Head Chef and Head of Banqueting at the venue, before revealing themselves as stars of the West End stage.