Message in a Bottle
More than 6 million Message In a Bottle kits have been distributed by Lions Clubs in The British Isles to people with hidden medical conditions such as diabetes, allergies, disabilities and life-threatening illnesses.

Paramedics, police, fire-fighters and social services support this Lions life-saving initiative MIAB saves them valuable time identifying an individual and finding out if they have any allergies or take special medication.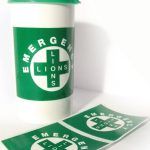 FAQs
Where can I get a Message In a Bottle From?
Message In a Bottles in Maidstone can be found in a variety of places including Pharmacies, Doctor's surgeries and Maidstone Hospital.
What is in a Message In a Bottle Kit?
The Message in a Bottle kit includes a form, where personal and medical information is detailed. This is placed in the distinctive bottle which is stored in the fridge. Two stickers are provided: one for the fridge door and the other for inside of the front door of the premises.
If kept in a vehicle, a sticker needs to be placed on the windscreen.
Do I have to Pay?
No, bottles are supplied free of charge by your Lion Club.
Who Co-ordinates The Scheme Locally ?
Maidstone Lions Club.